"SCREEN TFT 4.5 INCH G LUX IS NOT ARGUABLY GOOD. BUT THIS IS ENOUGH LIGHT, WITH COLORS SEEN ON. FAULTS, THIS ONLY UNSIGHTLY IN AN UPRIGHT POSITION. "
DESIGN
Unlike his brother, who impress us when first seen. G Lux, is not strong enough to make our hearts thrilled. Although the design is quite unique, with a rounded shape at the top and bottom of the body.
In terms of size, the ZTE Blade G Lux, or known as the ZTE Kiss 3 Max out there (yes, overseas we mean), comes with a body that is slightly larger than its predecessor. Not surprisingly, given that first came with 4-inch screen sizes, while the current 4.5 inches. In addition, G Lux also comes with a fairly slender body, which is only 9mm. This makes it not only comfortable to hold - apart from its plastic back, but also convenient to use when only one hand can be empowered. Who knows, you're holding the fried bananas when a message from a friend to come....
DISPLAY
We made like a new person off the plane after traveling for more than 24 hours, when it should switch from screen to screen Blade VEC Pro Blade G Lux. Broadly speaking, and of course on paper, 854 x 480 resolution offered a 4.5 inch TFT screen G Lux is not much better. But by no means was also very bad. It's quite bright, and the colors were seen alive. Although, powerless under direct sunlight.
Another downside, is that the screen looks blurry occasionally and his point of view was not extensive. In short, the G Lux only pleasing to the eye in an upright position. On this, we understand that the absence of an IPS panel to be one cause.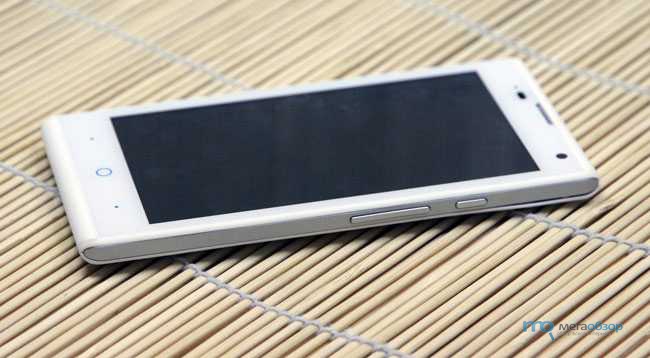 CAMERA
For an entry level phone, 5MP rear camera embedded in the body ZTE G Lux arguably quite satisfactory. The picture does not disappoint, though the detail and color production occasionally seen less. Lucky, because there are a number of modes and features that are useful here, such as Face Detection, Smile Shot and HDR. The existence LED flash, which means (literally) could take a picture with both the space filled only a little light was quite helpful. Although occasionally explained somewhat exaggerated.
For you who like to take pictures selfie, good news. 2MP front camera that brought G Lux is quite good for this task.
"FOR A PHONE ENTRY LEVEL, 5MP CAMERA THAT BRING ENOUGH ZTE BLADE G LUX SATISFACTORY. EVEN HAVE TO STRIVE IN THE DARK. "
\USER INTERFACE
Just like the more expensive brother, VEC Blade Pro, G Lux also comes with the Android operating system in the body KitKat. However, it is not the version that carries the latest version. Still 4.4.2 instead of 4.4.4. However, this is more than enough, in our opinion, for an entry level phone. The important thing is simple, and does not seem confusing, especially for those who are new to Android. Quite swept to the left and to the right, then you came to the intended application.
To make it look more ZTE, ZTE also do not forget to add a special touch in the interface G Lux, which is a screen lock (lock screen) that will activate your phone with a long press on the top of the circle in the middle of the screen.
PERFORMANCE
Processor and memory Blade G Lux is not exactly impressive. Classified as obsolete, even - a dual-core 1.3 GHz, 512MB RAM, Mali 400 GPU and 4GB of internal memory (expandable to 32GB). So, do not be surprised if the course is not as fast as you want. We began to be made upset when the reaction begins to slow down. Especially when we are busy switching from one application to another.
In short, standard. But that does not mean disappointing. At the very least, for the price offered. For some specific task, namely browsing the internet, playing videos, read or play casual games (Dino Robot and Penguin Village), Blade G Lux works well.
"DUAL-CORE PROCESSOR 1.3GHz carries fairly OUTDATED. SO DO NOT EXPECT TOO MUCH. The reaction slows down when faced with many applications at once. "
MULTIMEDIA
Some time ago, the 4.5-inch screen that feels great and is fun to use as a friend to watch. In contrast to today, where along with the swelling of the size of the phone, watch the video above 4.5-inch screen feels so small. At least, that's what we feel when opening YouTube and hold G Lux at hand.
But, that does not mean multimedia enthusiasts can not use it. Broadly speaking, the resulting display G Lux pretty good. Although once again, you have to make sure in an upright position rather obvious.
No special reliable embedded technology ZTE to help improve the quality of sound G Lux here. There was only the default audio enhancer (BesAudEnh) which will be useful when you are wearing earphones. In addition, other standard multimedia features are here too, such as music player, camera (see description above) as well as FM radio.